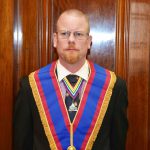 Robert was born in Hitchin Hertfordshire in 1973, but his family soon moved back to South East London where he spent his formative years.
Aged 16 he met and started dating Abigail. They are now married with 3 children and reside in West Wickham, Kent.
After 20 years in the scaffolding industry, Robert purchased a partnership in a security company in 2016 and is now employed there as a Company Director.
Robert was Initiated into the Craft in 1999 and Advanced into Broxbourne Lodge of Mark Masters in the Province of Hertfordshire in 2011.
In 2015 Robert joined Hibernia Lodge of Mark Master Masons and soon became active within the London Province. He was appointed as Assistant Provincial Grand Secretary in 2016, and promoted to Provincial Grand Secretary in 2019.