Mark Benevolent Fund – Grant Update on Lawson, the Sponsor Puppy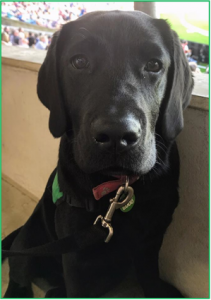 Lawson is now six-months-old. His socialiser Andy is introducing him to a range of people and animals and together they are visiting as many different places as possible. Andy is also ensuring that Lawson has a consistent daily routine which is helping Lawson to develop good behaviour.
"Lawson is six-months-old now, growing fast and a lovely puppy with a really nice nature. Like most puppies he enjoys playing and cuddles. He's got a cheeky side to him – although he's not allowed up on the furniture, it doesn't stop him trying! Lawson has three meals a day and a midday treat of carrot or sliced apple. He really enjoys his walks and loves both dogs and people. His natural instinct is to jump up when greeting people so we are working at getting him to keep all four paws on the ground. He is good at commands such as 'sit', 'down', 'wait' and 'stay' and walks to heel beautifully. We are working on his recall at the moment. Most of the time it is great but if he sees another dog he suddenly develops selective hearing and will come back when he has finished his game or when you have caught his attention!
Lawson sleeps well through the night in his crate. He will go to bed at 9pm and starts to wake up around 7am. We have been leaving the door of his crate open as we will wean him out of it in time. Occasionally, like a toddler, he will poke his head round the door before being put back into bed! Lawson is not a destructive dog and knows what is his and what belongs to us. To date we've had no history of him chewing shoes or furniture so hopefully it'll be unlikely that he'll start being destructive now. Lawson's favourite toys at the moment are anything that involves pulling and tugging! He will play with balls but quickly loses interest in them. He has a tub of toys and he will delve into it and present you with whatever he wants to play with! He also really enjoys running free off the lead, especially if he can meet up with his doggy pals Hudson and Jack who are also Dogs for Good puppies." Andy, Socialiser
Andy is receiving support from Jo who is one of our Puppy Coordinators. Andy and Lawson attend Jo's monthly puppy training classes. Jo also visits them at home regularly in order to monitor Lawson's progress and advise Andy on the best ways to help Lawson develop into a healthy and well-balanced dog.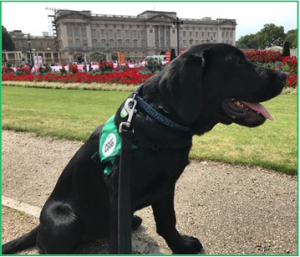 "Lawson and Andy have been to a wide range of places. Lawson's spent a couple of days in London taking in buses, the underground and Buckingham Palace. He is doing amazingly well in shops and out and about in general. He loves to swim in ponds or splash around in puddles and is everyone's best friend. In puppy class he has completed his Kennel Club Puppy Good Citizen Award. He is now working towards his Bronze Award as part of The Kennel Club's Good Citizen Dog Scheme which is the largest dog training programme in the UK and includes obedience exercises. Lawson is a super dog and is doing well in everything so far.
He's started to be a little mischievous recently due to his age (he's approaching adolescence) but with his cheeky little face he's soon forgiven!" Jo, Puppy Coordinator
Andy gives Lawson rewards in the form of treats and toys when Lawson is showing the desired behaviour such as walking calmly on the lead. Andy's praise and rewards teach Lawson to focus on Andy and strengthen the bond between them.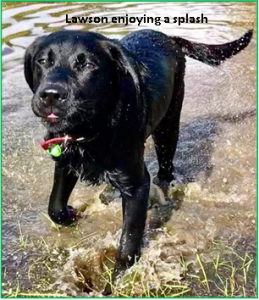 "We are an active household and are always on the go which really helps with Lawson's socialising. Lawson has attended the Ashes test match at Headingley where he was a great hit with the staff. They really couldn't have made us more welcome, everyone went above and beyond the call of duty to look after us both. Lawson travels well and is very confident. We've introduced him to lifts, disabled toilets, different types of shops and an array of cafés. We give him special treats on occasions such as when he walks nicely out on a walk, behaves calmly when visiting new places or lets us take a toy from his mouth.
Lawson is very sociable and loves trying anything new. He is enjoying puppy class and taking part in all the activities.
Meeting up with the other puppies is very exciting for him! We practice basic commands and get Lawson used to being comfortable with people handling his body. This will ensure that whenever he needs to go for a health check he will not
feel anxious about being examined by the vet. At our last class we practiced recall with the dogs going through play tunnels and encouraged the dogs to walk on different surfaces." Andy, Socialiser
Over the next few months, Andy will concentrate on transferring the training he has been working on with Lawson at home and in puppy classes to 'real-life' situations and environments. We look forward to keeping you updated on Lawson's progress. Your next update will be sent in a few months' time when he is around nine-months-old.
Thank you for sponsoring Lawson and helping him develop the skills needed to become a life-changing assistance dog.