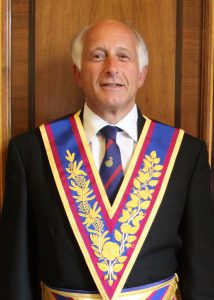 Stephen was born in 1952 and two years later his father determined that he would follow in his footsteps and become a Chartered Accountant. And so it was. After University College School, he attended the London School of Economics to gain his degree in Economics and Accountancy. After a three year training contract, Stephen qualified and became a partner in the firm six months later. He is still there!
He is very involved in his community, having served as his Synagogue Treasurer for six years, then six years as Trustee / Treasurer of the United Synagogue and now is the Vice President. He is also a Liveryman and on the Court of the Worshipful Company of Bakers.
He is married to Sue, and they have five daughters, five grand-children and three very large dogs. They live in Pinner.
Stephen was initiated into The Lodge of Lorraine 7176 in 1982. He was exalted in 1992 into Paulatim Chapter. He was Advanced into City Livery Mark in 1991 and Elevation followed in 1992. He was inducted into the Order of the Secret Monitor in 2000, and also belongs to the Allied Masonic Degrees and Scarlet Cord. He is currently in his eighth Craft Chair and has Grand Rank in Craft, Royal Arch, Mark, RAM and OSM.
He is a Metropolitan Grand Inspector in the Metropolitan Grand Lodge of London and belongs to about thirty Masonic Lodges of one sort or another. He became Provincial Treasurer for the London Mark Province in 2009. He is the Secretary / Scribe of Euclid Mark & RAM 1748